John Beargrease Sled Dog Marathon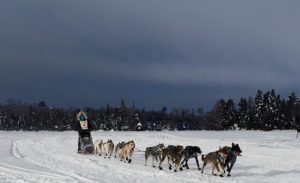 John Beargrease, the son of a Chippewa Chief, is most remembered for his legendary mail delivery runs. From 1887-1900 he hiked, sailed, rowed, and during the winter, traveled by dog sled, delivering the mail up the North Shore between Two Harbors and Grand Marais. The John Beargrease Sled Dog Marathon, a dog sled race along Lake Superior's North Shore commemorates the life of John Beargrease. It is a tribute to his memory and a celebration of life along the North Shore.
Gunflint Mail Run Sled Dog Race

The very northeastern tip of Minnesota is Cook County, a land blessed with stunning beauty. We have Gichigami. And glacially sculpted boreal forests. And an immense network of lakes and streams. And cold weather. And snow. We are blessed with cold weather and snow here. It is in this land of remote beauty that dog sledding became a way of life. And it is this way of life that we celebrate with the Gunflint Mail Run Sled Dog Race.
The Gunflint Mail Run Sled Dog Race is a continuous race consisting of two legs of equal distance, separated by a mandatory layover. There are two classes in the race: a 12-dog, 110-mile race and an 8-dog, 70-mile race. Come visit us in Cook County, Minnesota on January 11th and 12th, 2020 to experience this spectacular race.
The Gunflint Mail Run is in cooperation with and under a Special Use Permit from the U.S. Forest Service.